Small Boat. Big Fun.
The Chadillac Experience
Chadillac's newest and most fun adventure.  We found ourselves on Clearwater Beach in a boat. Yep, you heard it right, we on a boat.
So luckily not as much paddling and a little bit more horsepower to have a relaxing day out on the water.  Let us take you to the islands and sandbars off of the beach (only accessible by boat).  We will fill your time with paddling, floating, snorkeling, finding dolphins, relaxing with a drink (or two!), swimming or whatever else your heart desires!
Available for 3 hour trips up to an all day adventure.  Comes with a captain, 110 gallon Yeti cooler, and, if you're into it, a bumping sound system for a great atmosphere.
Remember, "The Ship don't make the captain, the Captain makes the ship!"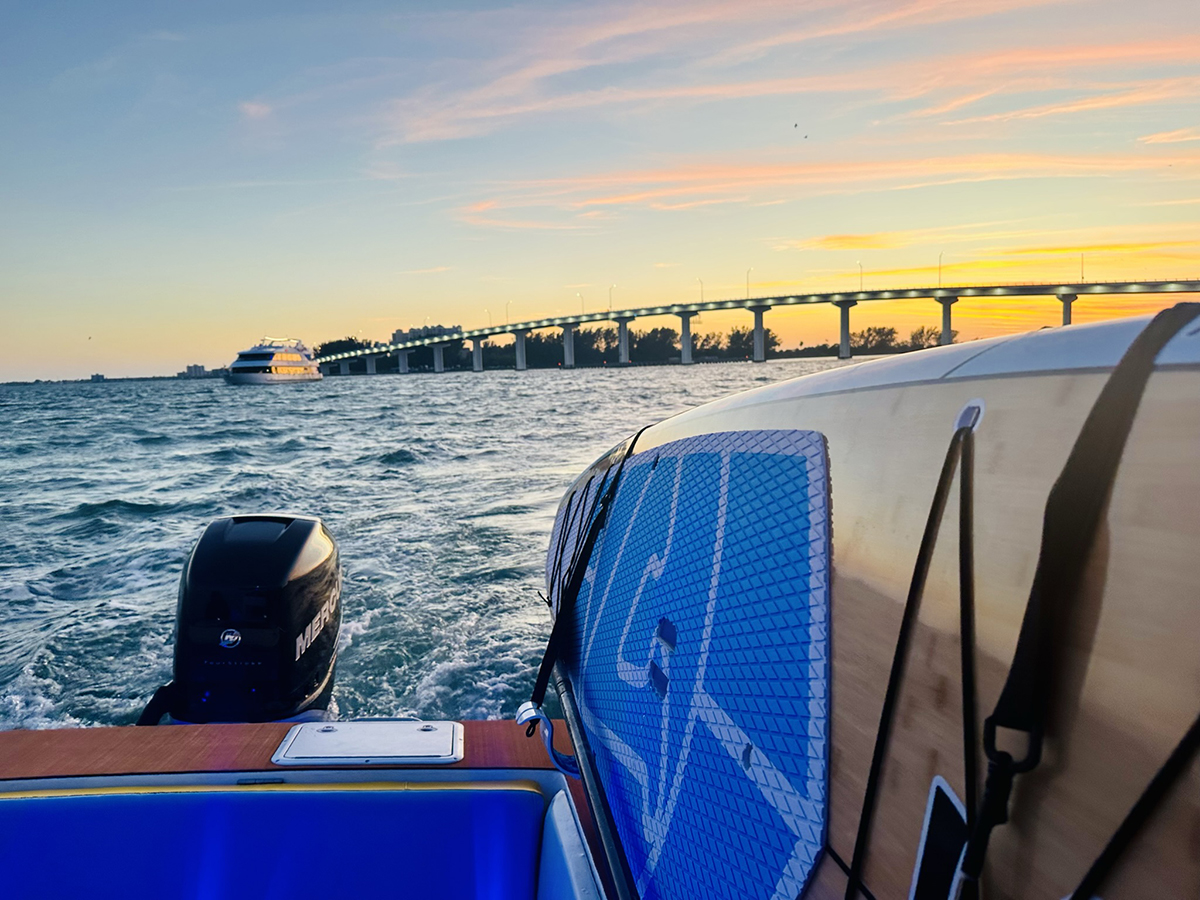 Looking for a Sunset Cruise Adventure?
Come join us off Clearwater Beach on our shorter boat trips for the most beautiful sunsets in all of the world!
Patrice Hubbs
August 16, 2023
Awesome trip on the Chaz with this gracious host and tour guide. His love for the rivers is infectious! High energy and so much fun! If you haven't experienced this, I highly recommend it. If you have friends from out of town, this is a must do!
Harmony Hilsgen
August 16, 2023
We made the trip all the way from Minnesota! Hands down our favorite part of vacation!! Chad definitely showed us the beauty there is other than the ocean life. Was a wonderful trip down the Weeki Wachee River for all the different ages we had in our group! Highly recommend for anyone!!
Melanie Snyder
August 14, 2023
Chad was the best possible person we could have had as a guide on this beautiful, little adventure. Thank you for making this experience so memorable!
Sheena Snyder
August 13, 2023
Went out today and had an amazing time with Chadillac Adventures! They had everything ready for a great day on the water. Had the perfect show time to beat the crowds, parking pass at the ready, kayaks in water, waters, & goggles. If you want a smooth adventure, this is the way to go. Thank you!
Braden Mead
August 6, 2023
Literally had the time of my life! If you are looking for one of the most beautiful and stunning clear springs, Chad is the one to go to! Got to see 5 manatees and had a blast. Will definitely come back soon to do the 6 miles again! 110% recommended🤙🏼
Emily Mask
August 6, 2023
Chad was an amazing captain today. He knew the best spot, was flexible, and entertaining. Highly recommend! We even passed his cards on to random hotel guests in hopes that they get to enjoy a ride!
Chad was the perfect captain! He made sure we were safe and comfortable. We told him what we hoped to do, and he took us to the perfect spot. We did some paddle boarding, snorkeling, and shell hunting. If you're looking for a great captain, choose Chadillac Adventures.
Daniel Wiggan
August 2, 2023
Wonderful experience & will definitely be back!!!!