Welcome!
A Little About Chadillac Adventures
Chadillac Adventures was started by Chad Mead in 2019. We offer rentals and tours with paddleboards and kayaks for families, couples, and anyone who loves to be out on the water! Around here we like to say, "The ship don't make the captain, the CAPTAIN makes the SHIP!"
We love to give people the joy and sense of adventure that comes with paddling around the waterways of Tampa Bay and surrounding areas. We couldn't be more proud to be located at Clearwater's "hidden gem" called Cove Cay Marina.
Our mission statement is simple, to give fun and family-friendly adventures on the water to everyone! We have great experience and knowledge of the waterways around Cove Cay and hope to give you and your group an adventure they won't forget anytime soon!
A Message from Our Founder, Chad Mead
Hi, I'm Chad and I'm proud to bring you Chadillac Adventures!
Although Florida is best known for its beautiful beaches what most people don't realize, is that beyond the sandy beaches, beneath the ground of our feet is an underground circuit of tunnels and windows filled with some of the clearest water on Earth.
Florida has many springs to choose from for a summer "cool down" or a "manatee express" during the winter months.
Lucky for us, Florida is blessed with more than 700 springs that hold shimmering shades of aqua blues and emerald greens. From deep within the aquifer eight billion gallons of water flow from the Florida Springs each day at a constant 72 degrees.
Most of the springs are located in the central and northern parts of the state allowing me to offer visitors an array of recreational opportunities while providing a level of protection for the essential natural resources.
So if you'd like to try new adventures boating, paddleboarding, or kayaking, come walk on water with Chadillac Adventures! I hope to see you soon. As we say around here, HAPPY PADDLING!!!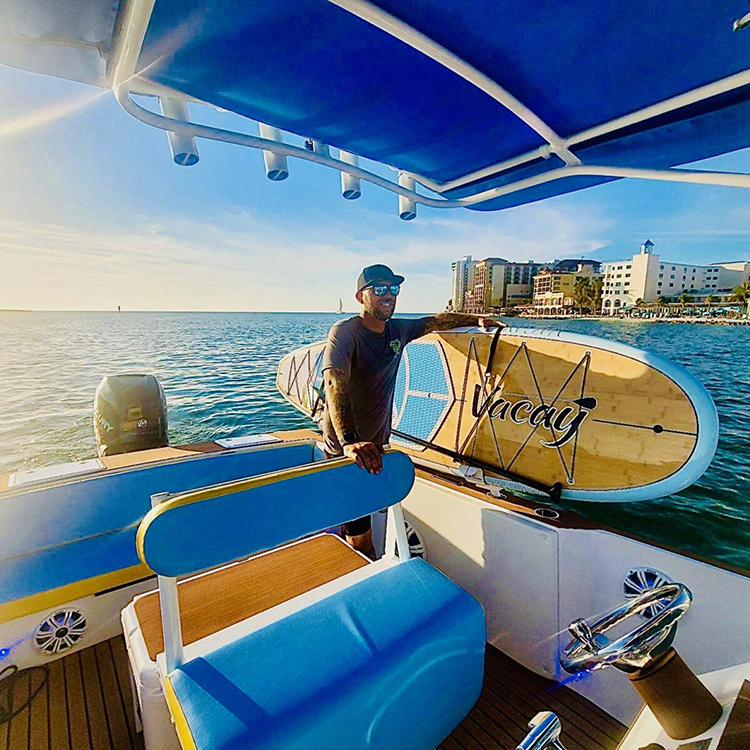 Patrice Hubbs
August 16, 2023
Awesome trip on the Chaz with this gracious host and tour guide. His love for the rivers is infectious! High energy and so much fun! If you haven't experienced this, I highly recommend it. If you have friends from out of town, this is a must do!
Harmony Hilsgen
August 16, 2023
We made the trip all the way from Minnesota! Hands down our favorite part of vacation!! Chad definitely showed us the beauty there is other than the ocean life. Was a wonderful trip down the Weeki Wachee River for all the different ages we had in our group! Highly recommend for anyone!!
Melanie Snyder
August 14, 2023
Chad was the best possible person we could have had as a guide on this beautiful, little adventure. Thank you for making this experience so memorable!
Sheena Snyder
August 13, 2023
Went out today and had an amazing time with Chadillac Adventures! They had everything ready for a great day on the water. Had the perfect show time to beat the crowds, parking pass at the ready, kayaks in water, waters, & goggles. If you want a smooth adventure, this is the way to go. Thank you!
Braden Mead
August 6, 2023
Literally had the time of my life! If you are looking for one of the most beautiful and stunning clear springs, Chad is the one to go to! Got to see 5 manatees and had a blast. Will definitely come back soon to do the 6 miles again! 110% recommended🤙🏼
Emily Mask
August 6, 2023
Chad was an amazing captain today. He knew the best spot, was flexible, and entertaining. Highly recommend! We even passed his cards on to random hotel guests in hopes that they get to enjoy a ride!
Chad was the perfect captain! He made sure we were safe and comfortable. We told him what we hoped to do, and he took us to the perfect spot. We did some paddle boarding, snorkeling, and shell hunting. If you're looking for a great captain, choose Chadillac Adventures.
Daniel Wiggan
August 2, 2023
Wonderful experience & will definitely be back!!!!