Gorgeous Vistas
The Sunset Cruise Adventure
Come join us off Clearwater Beach on our shorter boat trips for the most beautiful sunsets in all of the world!
Bring your favorite beverage and let's go toast to life on these 1.5 or 2 hour cruises.
We can usually see a dolphin or two on this cruise, and there is nothing like the colors you are for sure to see while out on the water during sunset.  Welcome to romantics and families alike for a great evening you're sure not to forget anytime soon.
Boat Time
Your Choice (Minimum 1.5 Hours)
Pricing
Starting at $250
Minimum 1.5 hours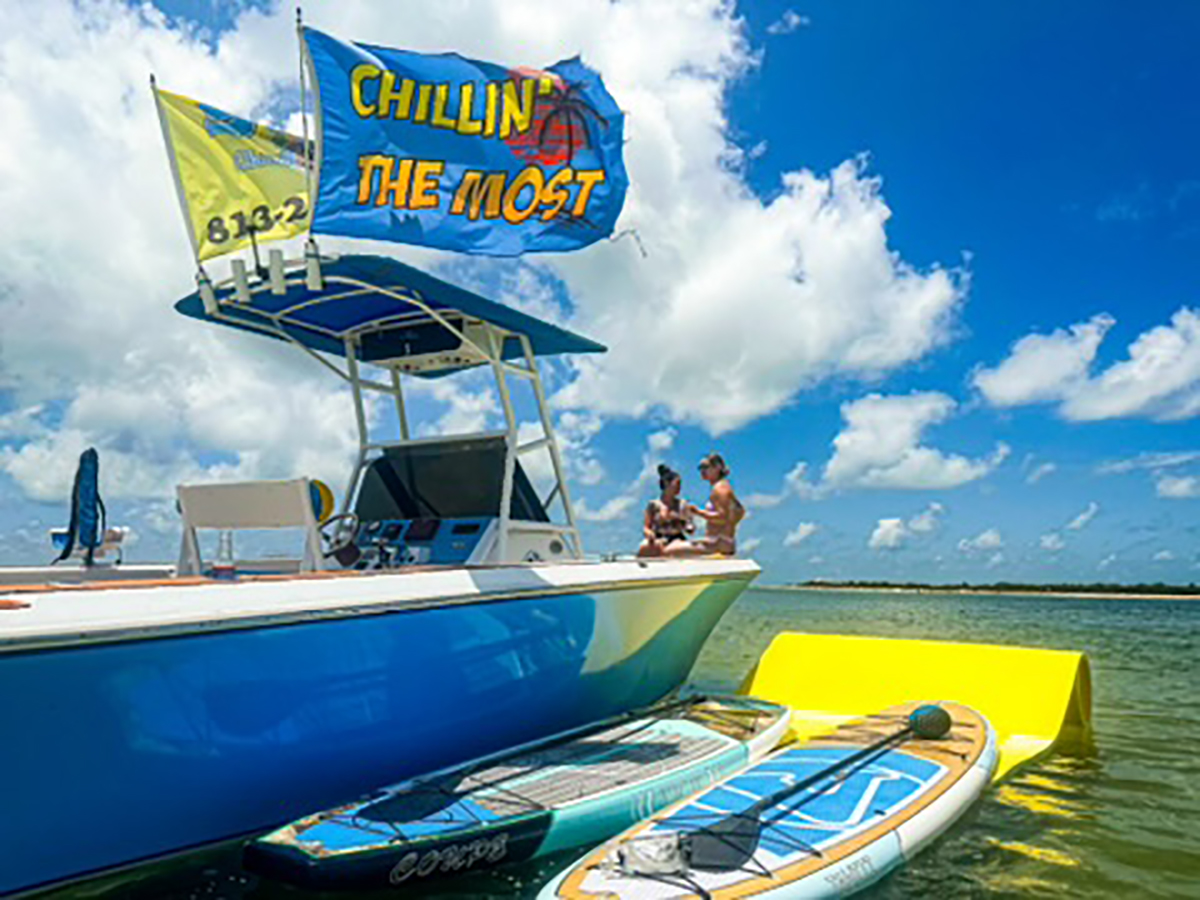 Looking for a Daytime Boat Adventure?
Chadillac's newest and most fun adventure. We found ourselves on Clearwater Beach in a boat. Yep, you heard it right, we on a boat. Come and find out for yourself!
Bear Clifton
November 8, 2023
It was a great day on the water Chad was very friendly, knowledgeable, this place is definitely a lil hidden 💎 GEM . I would definitely recommend this place for a great time on the water.
Melanie Hamilton
October 31, 2023
Garrett's hospitality was superb! Very friendly and helpful!! Kayaking was excellent! We witnessed lots of wildlife, including manatees, several dolphins, eagle, baby shark, and baby rays. Thanks to all the staff. Would highly recommend this hidden gem!
Jennifer Hernandez
October 19, 2023
Chad was a great host! The water was so clear and beautiful! We saw lots of wildlife including fish, turtles, and many birds! Truly a great experience 😀
Kelley Barrell
October 16, 2023
Chad was awesome! He was so much fun and went above and beyond to make sure we had a great experience. We will definitely be booking with him on our next trip back to Clearwater Beach!!
Robert Babcock
October 14, 2023
Chad was awesome really funny and knowledgeable about everything. He made our trip really fun. Took us to some really cool places. Never rushed us and let us make it our day.
Alex Antonucci
October 11, 2023
We had an amazing trip with Chad! He was so knowledgeable about the river and wildlife. If you want something different than the ocean I promise the springs will be your favorite part of your entire trip!
Michelle Robach
October 10, 2023
What a great day! We had so much fun and ChD was the best captain. We can't wait to climb aboard for another adventure!
Logan Merriman
October 9, 2023
Chad was a very helpful and an outgoing guy. This guy knows how to run a business, very professional. This place had beautiful scenery. We caught a sting ray, redfish and tons of catfish. Definitely recommend this location! Great prices too!
Bricen Niedermeier
October 7, 2023
Thanks Garrett!
tyler tillman
October 7, 2023
Recently, my wife and I had the privilege of visiting Chadillac Adventures, and it's an experience we won't soon forget. Right from the start, we were welcomed by the owner – hands down, the coolest dude in Largo! The establishment has an inviting vibe, complemented by an on-site restaurant and bar, ensuring guests have everything they need for a fantastic time. What truly stands out, besides the great prices, is the dedication of the staff. They provide detailed instructions, and for those of us who need a little extra assistance, their instructors are top-notch. But the cherry on top? The tours they offer. They're nothing short of awesome! If you're in the area, Chadillac Adventures is a must-visit. Can't recommend it enough. T-N-B